Why Stock Brothers?
Firstly, where to start, have you seen and tasted a Brothers cider recently? It's amazing. Not to mention how great they look on shelf with its standout packaging. Not enough, ok, read on to discover more amazing information about our cider.
Read More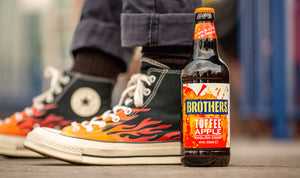 Point Of Sale Support
As a trade partner of Brothers, we can support you with on and off trade POS kits. POS kits can include bar runners, table talkers, banners, shelf stripping, shelf wobblers, pint glasses and much more. Please contact us with your requirements.
Contact Us
LATEST NEWS
For all the latest cider, festival and event news visit our Blog. In the meantime here are a couple of stories we think you will enjoy.
A Fresh Scoop On An Old Favourite
The promise of summer is tantalisingly close, with the days getting longer, the weather getting warmer, and festivals are just around the corner. This time of year can only mean one thing...
Learn more
The Official Cider Of Glastonbury Festival
Here we are again, in the run up to summer. The birds are singing, daffodils are beginning to flower, and the promise of festival season is just around the corner. To add...
Learn more

Find a stockist
To place an order, please select a region to find your nearest stockist:
Contact our trade team
If you have a trade enquiry please contact our team. Your nearest representative will be in contact to discuss your requirements.
Useful downloads
For downloads of items such as the Brothers logo and product images, please click here.
Overseas Stockists
Looking for overseas distributors? Look no further – Brothers has stockists in over 20 countries. See our global stockists here.
Pioneers Of Fruit Cider
Cider for curious minds, we push the boundaries of what you think is possible in a fruit cider.
Born In 'THE' Festival Field
From the spiritual home of festivals, we're the only brand that can truly claim 'we were there first'.
Fearless When It Comes To Flavour
We're shaking up fruit cider with a unique take on bold & imaginative combinations.