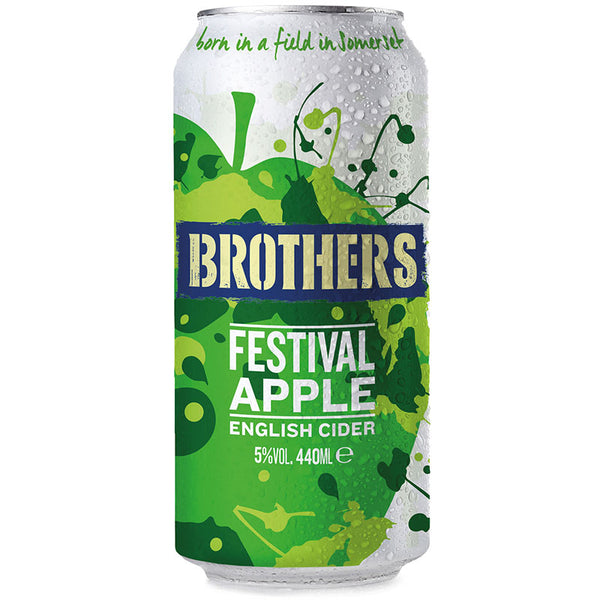 The Official Cider Of Glastonbury Festival

Made by 4 brothers in Somerset. Brothers Festival Apple is the Official Cider of Glastonbury Festival. Festival Apple is a refreshing, medium dry cider made from the juiciest bittersweet Somerset apples. Full of flavour & perfect for enjoying with friends.
Gluten Free. Suitable for vegans.
• 20x440ml cans (2x10 packs) 
• 5% ABV
Made using natural carbonation. Contains no artificial sweeteners. Contains no fats.
› 43.1 kcals/100ml › 440ml › 2.2 UK units
(Information obtained by calculation)
Delivery Info
We offer delivery within 5 to 7 Working Days to Mainland GB (England, Scotland & Wales) & Northern Ireland addresses only. We utilize a specialist courier shipping service to ensure your product isn't damaged in transit. Deliveries will be attempted between 08:00 and 17:00 Monday to Friday.
Please note deliveries do not take place over weekends or bank holidays, and all orders placed on a bank holiday will be processed the following working day.
Unfortunately, we are currently unable to deliver to Eire, Scottish Offshore, Isle of Man, Isle of Wight or the Channel Islands.
All orders must be signed for, and customers may be required to provide proof of age on receipt of orders.
Whilst we make every effort to deliver all your goods in the agreed time, we will not be liable if we fail to do so in part or in full due to circumstances beyond our control.
Shipping charges:
All shipping is calculated at checkout.
FREE delivery available on orders over £40. Mainland GB, (England, Scotland & Wales only) excluding Northern Ireland.
Christmas shipping:
All orders placed before midnight Wednesday 20th December 2023 will be processed and dispatched for delivery on Friday 22nd December in time for Christmas. For Northern Ireland customers, orders will need to be placed by midnight Tuesday 19th December for delivery on Friday 22nd December. However, once the items have been dispatched we are not able to guarantee delivery due to any circumstances that might arise outside of our control.
Tuesday 19th December: Midnight
Last orders for Northern Ireland Christmas delivery. Delivery on Friday 22nd December.
Wednesday 20th December: Midnight
Last orders for Mainland UK Christmas delivery. Delivery on Friday 22nd December.
Thursday 21st December 2023 to Monday 1st January 2024: Closed
All orders placed between these dates will be processed and dispatched from Tuesday 2nd January 2024.
COCKTAILS & RECIPES
Fancy a night in with something different? Or perhaps impress your friends with one of our fantastically fruity cider cocktails and recipes.
Learn more