LATEST NEWS
For all the latest cider, festival and event news visit our Blog. In the meantime here are a couple of stories we think you will enjoy.
The Official Cider Of Glastonbury Festival
Here we are again, in the run up to summer. The birds are singing, daffodils are beginning to flower, and the promise of festival season is just around the corner. To add...
Learn more
New Brothers Raspberry Ripple Cider
The promise of summer is tantalisingly close, with the days getting longer, the weather getting warmer, and festivals are just around the corner again. This time of year can only mean one...
Learn more
We are Matthew, Jonathan, Francis and Daniel.

For 14 generations our family has always strived to make light, refreshing ciders using a variety of fruit. We are trailblazers of fruit cider and creators of curiously wonderful flavours.
Very moreish, full of flavour and not like anything else on the market,
Suzy
This is superb so refreshing...this will be my Summer 2022 drink..exceptional.
Anton
SourceCustomer product review
OMG this is literally the best cider ever, it is just delicious, well done Brothers, & please do not ever stop producing this cider it is just sublime,
Caroline
This cider is so refreshing! The first sip you taste the toffee and then every sip after that it tastes just like a fresh apple with a toffee flavour that follows.
Shannon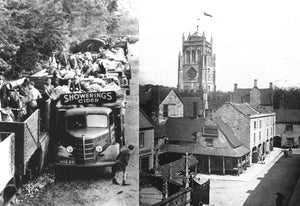 FAMILY ALBUM
We have been making cider since 1658. This is the first documented evidence of Gabriel Showering, our uncle 14 generations back, taking his cider around the public houses of Shepton Mallet, Wells and Glastonbury.
In 1842 we opened our first pub, The Kings Arms in Shepton Mallet. It was hard work but luckily our ancestors were not shirkers, so we opened more pubs, like the unusually named Black Swan, also in Shepton Mallet.
Learn more